Shout Out to One of Indy's Coordinators
For the past four years Angie Merchant has been the Coordinator for Lawrence Township. After retiring from Lawrence where she taught for more than twenty years, she has been inspiring and engaging tutors with great programming and professional development each month. One of our favorite programs was Professor Watermelon who taught us tips on writing!
Angie has been married to Bob for 47 years . She has three wonderful daughters, Elyse, Emily and Chrissy. During our quarantine, Angie has been facetiming and reading with her seven grandkids. In addition, she has tried to give virtual piano lessons, but that has been more difficult than she thought it would be.
And with her spirit of giving back to the community, Angie has been busy sewing masks for her daughters and their colleagues. Emily is an Emergency Room doctor for St. Vincent and Henry County, Elyse is an EMT for Noblesville Fire Department, and Chrissy is taking time off from her job as a surgical technologist to be a stay at home mom. Angie and her three neighbors have sewn more than sixty masks and surgical caps for her daughters' nursing staff, fire fighters, EMTs, and nurses at Community North.  Here is a photo of Emily modeling one of the masks while staying safe to care for her patients.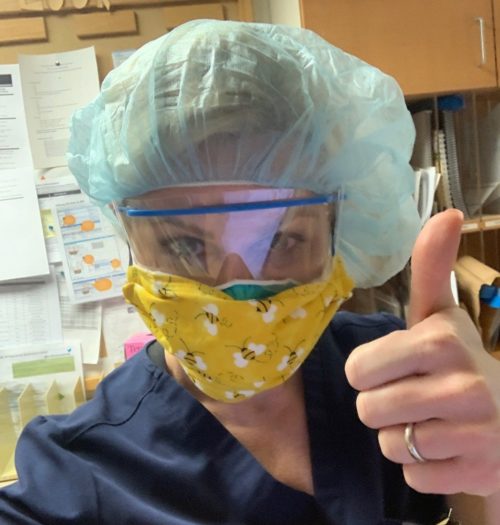 Angie told us about her new two doggies, Sasha and Sadie.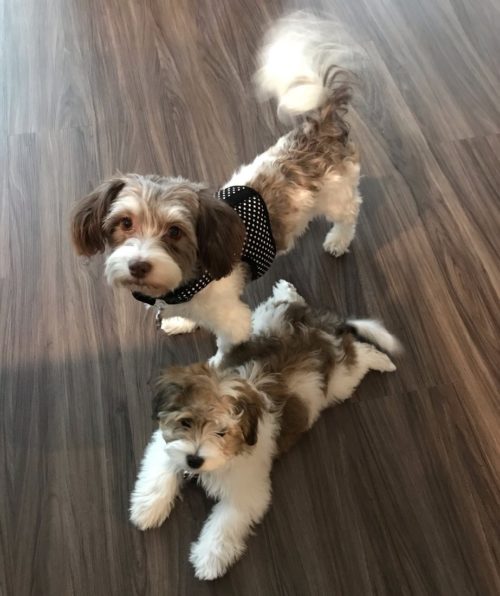 She has been walking them every day.  In her spare time, she has been working on puzzles and reading a lot! Here are some of her recommendations.
Angie's Picks:
Adult Choices
 Where the Crawdads Sing
 The Nightengale (great WWII bk takes place in France,
The Educator a Memoir (a true story about a girl raised in a Mormon)
 The Plumb Tree (WWII bk about a German woman),  (the Series of 4, Sensible Shoes)
 Beneath a Scarlet Sky (super good WWII true story that takes place in Northern Italy)
Books for kids: 
Thundercake by Patricia Polacco
 If You Give a Mouse a Cookie  by Laura Numeroff
The Big Friendly Giant by Roald Dahl,
 Gooney Bird Greene by Lois Lowry (great little book to inspire writers)
Tutor Tuesday
The St. Louis Tutoring office has a Tutor Tuesday blog and invites Indianapolis Tutors to take a look.
This week they feature a video on phonemic awareness with great materials you can download to use with your students. There is also a celebrity read aloud and  information about a Covid-19 time capsule.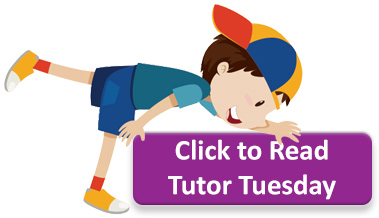 Volunteer Opportunity
Oasis is proud to share opportunities for YOU to support our community right now during the COVID-19 emergency.
Making Masks
Put your sewing talents to use and create cloth face coverings to help slow the spread of COVID-19.  Oasis community partner, YMCA of Greater Indianapolis asked for help in making non-medical face coverings. They are requesting masks by May 4th. We have several volunteers who have purchased elastic, but we need you to donate fabric. We have several different patterns to choose from and we can team you up with someone to help you. Of course, thru a virtual training. Maybe you can just cut fabric or help pick up finished masks from volunteers' porches. If you would like to know more about this volunteer opportunity email apellman@oasisnet.org

What Do You Think?
Would you be interested in participating in a Zoom call with your district's coordinator? And don't worry if you don't know how because we would provide a tutorial on how to log in and join us with the meeting. Please email me a quick response or comment below to let me know. Also, you could send me a photo of your pet, or a story about making a connection with your student! I look forward to hearing from you!