Welcome to Indianapolis Oasis
Stay Healthy, Learn, Grow and Connect
We want to stay connected with you as we continue to navigate through the pandemic. Following the guidelines set by the health and government authorities Indianapolis Oasis will continue with limited in-person classes as well as online presentations via Zoom. We look forward to seeing you.
Click on the classes tab and register today!
This is NOT your Hallmark Romance Movie! Click and learn more about A-Fib & Stroke Risk Dr. Eric Prystowsky, practicing cardiologist with St. Vincent Medical Group and Director of Cardiac Arrhythmia Service, St. Vincent

Dr. Michael Busk of the St. Vincent Health, Wellness and Preventive Care Institute shares information about COVID-19 and answers questions. We want to hear from you How are you dealing with

Online classes led by top instructors presented by local Oasis centers from across the nation - Oasis Everywhere.
We advise taking social-distancing precautions that include:
Avoid close conversations and maintain distance between yourself and others in both one-on-one and small group encounters.
Ritualize frequent hand sanitizing and hand washing and be mindful of objects you touch often – your phone, keys, wallet – that could transfer disease even after you have self-sanitized. When possible, re-sanitize hands after touching frequently held objects AND sanitize those objects with disinfecting wipes.
Avoid large gatherings when possible, and practice 1 and 2 above during and after all interactions.
Health professionals recommend avoiding plane, train, and other shared travel unless absolutely necessary, and have escalated that recommendation to include all non-essential activities.
At the first signs of infection, contact a health professional you trust and get evaluated. There is evidence that COVID-19 has an infection "tipping point" and early intervention leads to better outcomes.
Finally: Don't panic. If you are practicing social distancing and are engaging in good self-care, then you are unlikely to get sick. Eat well. Get sleep. Go for a long walk when the weather is nice. Continue to think about good hygiene at all times, wash your hands frequently and clean frequent touch points.
Don't miss out!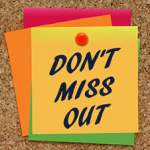 To keep sharing our news with you using eblasts, our most efficient communications tool, we must have your permission. Please Opt In to receive email from us.