Oasis tutor Betty Dotson has been reading good books with children for quite some time, but she recently had the opportunity to explore the meaning of a story a little more deeply with a second grader named Trenedy. Together, the two took a trip back in time, a history lesson came alive and the intergenerational nature of their relationship took on a whole new meaning.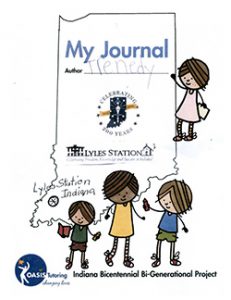 They read "Following the Drinking Gourd," a book by Jeanette Winter that tells the story of how slaves risked their lives to reach freedom by taking the Underground Railroad. And then Betty was able to share her own family's rich history, including the true story of Lyles Station, an early African-American farming settlement in southwestern Indiana. Her family's ties with slavery several generations back were something she was happy to share, as they created a journal that melded Trenedy's writing and drawings with Betty's family photos.
"Trenedy seemed most fascinated about the Underground Railroad, how people had to travel to freedom," says Betty. "They didn't bring a suitcase and had to live off what they could find to eat."
More than 70 other tutors and their students also created journals throughout the year-long Bicentennial Bi-Generational Project, celebrating the 2016 Indiana Bicentennial. With funding from the Indiana Humanities and Hoover Family Foundation, the project provided tutors and students some interesting glimpses into the state's history.
"This project allowed us to purchase select books to integrate the study of U.S. and Indiana history, families and culture into the traditional Intergenerational Tutoring Program with great success," says Mary Dorney, Executive Director of the Indianapolis Oasis. "The goal of the project was to help children and their tutors see that they and their families will be the threads of the fabric woven into our history another 100 years from now."
More than 500 Oasis tutors are volunteering in the Indianapolis area, providing weekly tutoring throughout the school year to hundreds of children in grades K-3 who need additional support. Nationally, more than 5,000 tutors serve in 20 U.S. cities. For more information about Oasis Intergenerational Tutoring visit tutoring.oasisnet.org

Oasis is a foundation partner with Generation to Generation, a new national campaign that aims to mobilize one million adults age 50+ over the next five years to support young people. To learn more, visit http://generationtogeneration.org/.