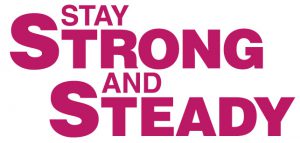 Statistics Show:
• Falling is an issue for adults as we age.
• Each year, millions of older people—those 65 and older—fall. In fact, one out of three older people fall each year, but less than half tell their doctor. Falling once doubles your chances of falling again.
• One out of five falls causes a serious injury such as broken bones or a head injury.
Is there something you can do?
Do exercises that make your legs stronger and improve your balance.
Stay Strong and Steady!!!
Join Oasis for a free exercise session on Wednesday, May 25 for the following classes and locations:
Gentle Chair Yoga #558
Muscle Toning #165
Posture Balance and Strength #365
The first 100 participants will receive a complementary Oasis Stay Strong and Steady T-shirt.
Coupons for complementary balance screenings courtesy of Westminster Village North
Pre-registration required. Call 317-396-3751 and reserve your space today!
Look for these falls prevention classes this trimester:
Building Bones – Osteoporosis Exercise and Education
Cardio Motown
Chair Pilates
Complete Body Workout
Core and More
Free From Falls
Gentle Chair Yoga
Let's Move 20/20/20
Muscle Toning
Posture, Balance and Strength
Strength, Balance and Flexibility
Strength and Tone
Tai Chi
Yoga


AARP® Medicare Supplement Insurance Plans, insured by United Healthcare Insurance Company is sponsoring a series of fall prevention classes in the Indianapolis and St. Louis areas for older adults through The Oasis Institute.