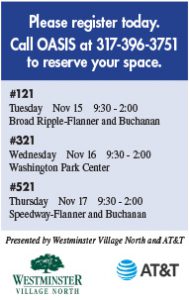 Join technology experts and fellow Oasis members for this FREE AT&T Digital You educational event.
This event features individual consultations and hands-on opportunities to experience the latest devices and services in the morning followed by the featured lunch-and-learn with experts presenting on the latest technology resources available.
9:30 – 11:30  Senior Tech Fair: Displays, simulator and individual consultation-by appointment only, bring your device and/or questions and work one-on-one in a 20-minute appointment
11:30 – 2:00  Lunch-and-learn: Deep dive into managing photos, music and device software updates
You will:
• Enjoy free apple cider, coffee & refreshments in the morning
• Enjoy lunch in the afternoon session
• Introduce your friends for OASIS (registration fee is waived for new members!)
• Meet & learn from technology experts
• Watch or participate in demonstrations
• Experience text and drive simulator
• Attend one session or join us for the entire event
Note: Information is not limited to AT&T products and service.